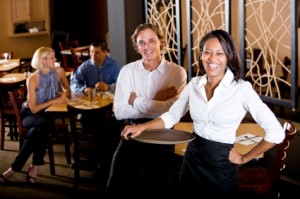 Food service is a tough industry, and in such a quick and competitive marketplace, maximizing a bar or restaurant's efficiency and productivity is essential for survival. While a big part of business efficiency is about planning—budgeting, accounting, saving—much of your business productivity rests with your employees.
More notorious than the restaurant industry's business turnover rate is its employee turnover rate: restaurants' low wages and difficult hours attract young workers who often leave to find better-paid work, take a job opportunity from a competing business, or continue their studies. Many of these workers treat restaurant shifts as an "in-between job" limited to just a few months. On average fine dining establishments in the U.S. experience 66% annual employee turnover while fast food  turnover rates soar to 145%/year. Finding a steady, loyal, and motivated restaurant staff can seem nigh or impossible, but there are steps you can take to make your business more appealing to quality, committed employees.
Set clear, reasonable responsibilities and goals. Don't pay your workers to float around in employment ambiguity—start training new staff as soon as they arrive. Make sure they are clear about their responsibilities, teach them what their co-workers do, and hold existing staff accountable for getting their new co-worker on track. Create a responsibility matrix to ensure that one employee is responsible for every necessary chore.
Encourage employee collaboration. A supportive team atmosphere is essential for staff retention and success.  Have employees help train each other, hold staff meetings that are social and collaborative, make a Facebook group, and host team-building activities and events. Workers who feel like they're part of something become much more loyal
Don't overwork or overstress employees. Rushing around a busy, packed restaurant is a fact of food service, but it shouldn't be a constant. Employees who spend hours sitting around, chatting, and folding napkins are a waste of money; but employees who are too rushed to give customers time and respect and suggest additional menu items—appetizers, desserts, drinks, specials—are also a waste of money. Giving workers support staff and the occasional break makes them a lot happier; happy workers mean happy customers, which mean happy profits.
Be flexible. If workers are doing what they need to do and helping the business, be accommodating of their personal lives—adjust the schedule so they can see their son's baseball game or pick up their mother at the airport. Employees are a lot happier when they can juggle work and personal life.
Reward good work. Provide incentives for your employees to work hard and take their job seriously. For example, reward gift cards, event tickets, or days off to employees who don't miss shifts, have high sales records, or promote a positive attitude. This will stimulate worker motivation and healthy competition.
Develop personal relationships. One of the many reasons that restaurant owners should spend lots of time at their businesses is to get to know their employees. It's not just about keeping an eye on workers and making sure they don't steal or slack off; it's about learning workers' names, backgrounds, individual working styles, and favorite music. Serve cake on employee birthdays, and your workers will know their employer cares about them.
Show employees they have a future here. Your staff will stick around and work harder if they see long-term opportunities within your business. This can mean employee benefits, bonuses, partial ownership, or simply asking for the staff's input on business development.
How to use this Information
Owning a restaurant takes both number skills and people skills, and Sanborn and Company can help you with both. As a leading Denver business broker for almost two decades, Sanborn can advise you on maximizing employee productivity—among many other things—to ensure your restaurant business succeeds.  Looking to buy or sell a business, lease or purchase real estate, call us today at 303 220 7919 or request an appointment online to see how we can help.
Restaurant owners, share how you keep your staff happy and loyal! Restaurant workers, tell us what your boss does (or what you wish he did) for his staff's benefit.